The grief journey can be lonely for a child, filled with sadness, anger, and fear. That's why Hospice of the Piedmont — with generous support from our local community — holds twice yearly family bereavement camps. Fostering healing and community building in the wake of the loss of a significant loss is one of the best ways to help loved ones move forward with their lives.
This past fall, Journeys Grief Camp was held at Triple-C camp in Charlottesville. On a crisp and sunny day, families were welcomed by Hospice of the Piedmont expert staff members and volunteers, and began their day's journey through healing outdoor activities. In the morning, families created flag banners commemorating their loved ones and scrapbooked pages with personal photos. After lunch, adults met together for a support group, while children participated in a healing circle. A day filled with interactive activities — nature hikes, low ropes programs like trust fall exercises, a touch-and-learn experience with live animals, and a therapeutic art workshop creating worry boxes or worry dolls — provided hours filled with healing and remembrance for dozens of local families.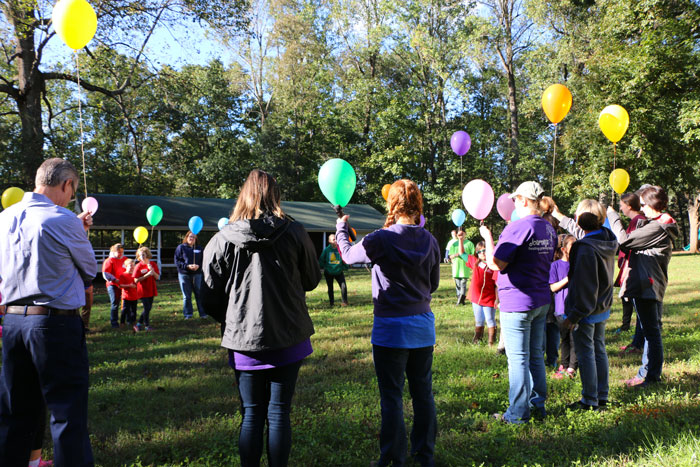 Fully funded by philanthropy, Hospice of the Piedmont's Center for Children provides a setting in which the most vulnerable members of our community can together share in their healing journeys after losing a loved one. This is what Grace, 7, found in the Center for Children's Journeys Fall Camp.
Referred by her school's counselor following the sudden death of her father, Grace attended Journeys Fall Bereavement Camp after nearly 18 months of bereavement visits at her school and the Hospice of the Piedmont's offices. While experiencing intense grief in the wake of her father's death, Grace began visits with an art therapist and was able to develop a bond, establish trust, regain the ability to talk about her father, and build the skills necessary to be able to share her feelings and remember her father.
The Center for Children, a program of Hospice of the Piedmont's Center for Grief and Healing, annually helps 225 families at no cost to participants and with no need for participants to have a previous affiliation with hospice or Hospice of the Piedmont.
The Center for Children also offers many other bereavement services tailored to children and teens coping with the loss of a loved one. From individual and group bereavement counseling services — available in home, in schools, and at Hospice of the Piedmont offices — to Journeys Family Nights and seasonal Journeys Bereavement Camps, the Center for Children provides critical support to our neighbors.
The Joseph and Robert Cornell Memorial Foundation is a key partner in funding Hospice's Center for Children. Without community partners like the Joseph and Robert Cornell Memorial Foundation, Hospice of the Piedmont's Center for Children would not be able to provide these important community resources. By supporting Hospice of the Piedmont's Center for Children, among other programs, the Joseph and Robert Cornell Memorial Foundation has enabled the Center for Children to grow its programming, expand the number of families and children involved, and ensure our community is well-resourced to help our neighbors and youth along their grief journeys.
I can't say enough great things about the Journeys' camp. When my then 7-year-old daughter lost her father, she was devastated. She completely shut down and did not want to talk about it to anyone. She didn't even want to talk about him at all. Then I found the Journeys' camp. It gave the children another outlet to express themselves and their feelings through art. It ended up being exactly what my daughter needed. It helped my daughter express herself and her feelings in a healthy way. She also gained trust in someone that she is comfortable talking with. She has come a long way and I have this program to thank for that. She has even started verbally talking about her feelings and her dad where we can have conversations about him. I will be forever grateful for the Journeys Program."

— A Journey's patient