Our
no-cost care

extends beyond just the needs of our patients.
We also provide peace of mind to their families and loved ones through our complimentary grief support programs, made possible by our generous community.
As a nonprofit hospice, we rely on the support from our community in order to continue to provide high-quality, free support to terminally ill patients and their families. You play a critical role in allowing us to accept anyone in need, never turning a person away for financial reasons.
Gifts from
our community

have enabled us to provide:
Compassionate care to over 1,600 patients each year, wherever they call home.
Center for Grief and Healing Offers Virtual Counseling
Hospice of the Piedmont has always provided therapeutic grief counseling services at no charge to support our community, but these services are now delivered in a different way.
Donald A. Perry Memorial Scholarship and Wage Increases Reflect Gratitude to Staff
Thanks to an extraordinary donation from Kay Taylor of Charlottesville, Hospice of the Piedmont is pleased to announce the establishment of the Donald A. Perry Memorial Scholarship.
Personal Protective Equipment and Telehealth Become Essential to Patient and Family Care
As we experience the realities of COVID-19 in our community, Hospice of the Piedmont remains fully committed to providing excellent service and the highest quality of care.
At Hospice of the Piedmont, it is our mission to positively transform the way people view and experience serious illness, dying, and grief. We work to honor the final wishes of our patients and support those they leave behind—we can only do this with your help.
Hospice of the Piedmont is a nonprofit, 501(c)(3) organization that serves the entire community. We rely on donations like yours to bring comfort and dignity to people facing serious and life-limiting illnesses.
Your gift fund programs and services that directly support patients and their families. You're helping us to:
Care for ALL

, providing free or discounted care to patients who lack insurance or need help paying for their care.

Support people through grief

, not only out patients and their families, but anyone in our community who is grieving the death of a loved one.

Offer specialized training for staff

to ensure we meet each patient or family's needs.
Hospice of the Piedmont is supported by our friends and benefactors with gifts of all sizes. Individuals, corporations, and foundations contribute annually to support our work. We welcome gifts of all sizes and we invite you to join our dedicated and faithful annual fund donors.
The Piedmont Society recognizes our benefactors who generously give $1,000 or more annually to help us provide highly personalized, dignified, end-of-life care to patients with life-limiting illnesses, and compassionate grief support to their loved ones. With your help, we work toward a day when no one in our region dies alone or in pain.
In appreciation of your support, your name will be placed on the Piedmont Society Honor Roll, (with your permission) and you'll receive invitations to special events. Contributions are tax deductible, as allowed by law. For more information, or to join the Piedmont Society today, please contact Adam Wagner at 434-972-3568.
The Agnes Coburn Legacy Society
The Agnes Coburn Legacy Society recognizes and honors individuals and families who have established a future gift benefiting Hospice of the Piedmont, including named, endowed funds. The society honors Agnes Coburn, a visionary woman who worked tirelessly to help establish Hospice of the Piedmont in 1980.
Friends who leave legacies in their estate and financial plans ensure access to compassionate, quality hospice care in central Virginia for generations to come.

You become a member of the society when you indicate in writing that you have made an estate gift to Hospice of the Piedmont. Some gifts that qualify you for membership are:
Making a bequest or leaving Hospice of the Piedmont a gift in your will or trust.

Creating a life income gift (charitable remainder trust or charitable lead trust, for example) that will ultimately benefit Hospice of the Piedmont.

Naming Hospice of the Piedmont as a beneficiary of an IRA, other retirement plan, or life insurance policy.
To join the Agnes Coburn Legacy Society, please complete and return the member profile form or contact Nancy Parsons at 434-972-3568.
Corporate and Cause Marketing
Hospice of the Piedmont partners with local businesses in cause marketing to raise money for and increase awareness about our important work. If you are interested in learning more about how your business can partner with Hospice of the Piedmont, please contact Adam Wagner at 434-972-3568.
As the only nonprofit hospice care provider in the area, our award-winning organization is able to offer the most comprehensive array of services to patients and families. We thank our generous community for providing ongoing financial support to meet the demand of our expanding services.
Hospice Fund
Hospice of the Piedmont is the second largest hospice in the state, serving central Virginia, Charlottesville, and Culpeper. Since 1980, it's been our mission to positively transform the way people view and experience serious illness, grief, and dying, and to ensure that no one dies alone or in pain. We provide specialized programs to enhance quality of life, which is made possible through donations to our Hospice Fund.
This past year, we cared for 1,668 patients through in-home care and our in-patient and residential care facilities. These locations were designed to provide comfort, peace, and dignity for both patients and their families. In addition to clinical care, we also provide complementary therapy programs like art therapy, reiki, massage therapy, pet therapy, and our Music by the Bedside program.
The Hospice Fund also supports our Center for Grief and Healing, serving 3,592 bereaved adults, and our Center for Children, which worked with over 425 youth. These grief and healing services are available free of charge to family and friends of hospice patients, as well as community members who have lost a loved one outside of our care.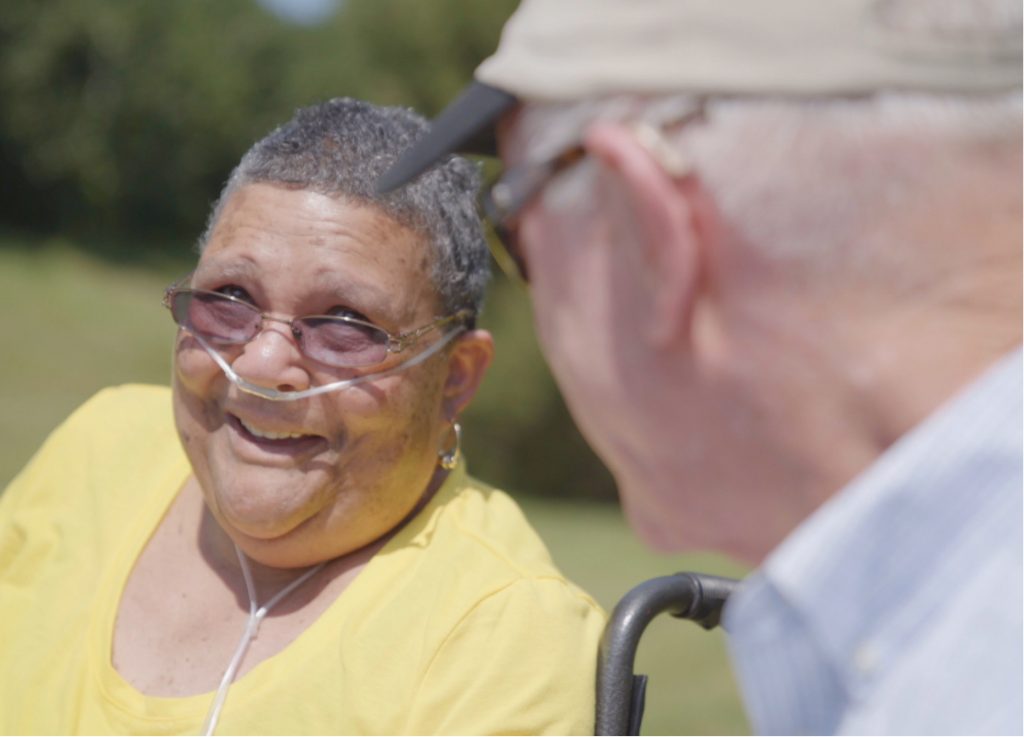 Center for Grief and Healing
Center for Grief and Healing
Hospice of the Piedmont offers the only free grief support program in our service area. Our staff is comprised of highly trained, specialized grief counselors and volunteers who travel to homes, churches, community centers, prisons, and extended care facilities to ensure that care is available to everyone.
The Center for Grief and Healing consists of several unique programs that provide individuals the opportunity to grieve in their own way. These programs include individual counseling, short-term and extended group sessions, and specialized workshops. Over the past year, our team has provided 200 one-on-one and group sessions. Each individual has an average of four sessions with our grief counselors and many register for group workshops.
Rick lost a grown child to a tragic car accident and then lost his wife a month later to a short battle with cancer, it was overwhelming. The Center for Grief and Healing quickly stepped in and scheduled one-on-one sessions for Rick with our bereavement counselors. He then registered for a four-week group therapy program. That guidance and support meant the world to Rick. He mentioned, "Your thoughts and counsel have been so critical to me."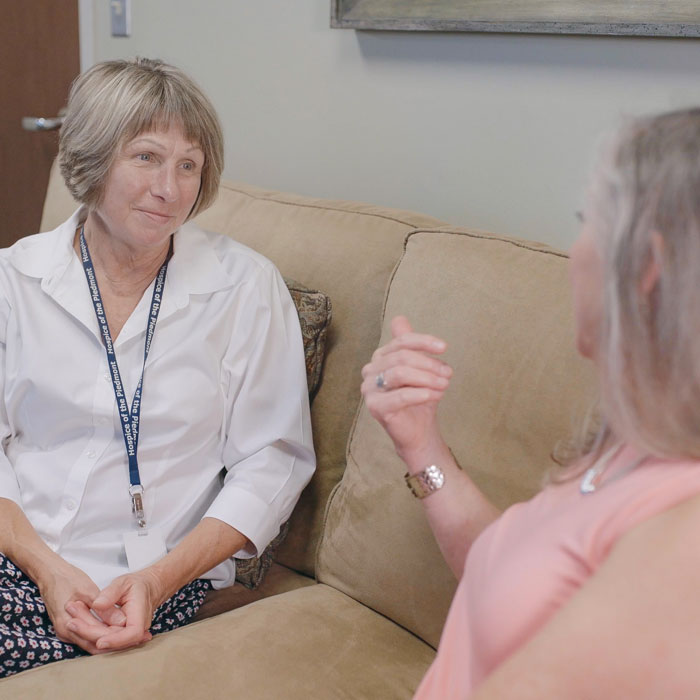 Center for Children
Grief is complicated, but it can be particularly difficult for children. That's why Hospice of the Piedmont's Center for Children provides the only free bereavement, grief, and trauma program in our 12-county service area. About 70% of the children we see come from low-income households and would not otherwise have access to the specialized, expert care that they receive with us. Without this program, they would have to navigate a confusing, emotional time all alone. The Center for Children represents a lifeline to these children, ensuring that they have a safe, supportive place to grieve.
The Center for Children consists of three separate programs:
Journeys—Healing Grieving Hearts offers grief support through individual and group counseling, seasonal family day camps, and workshops for children ages 4-18 years. Through expressive and arts-based therapies, our staff helps children understand that experiencing grief and showing emotion is a natural part of the healing process.
Oasis—Teens for Grieving Hearts provides grief support in a group setting, addressing the unique needs of teens coping with the loss of a loved one. This multi-week program offers weekly sessions that include dinner, meditation, a variety of art and music therapies, all in a safe space for teenagers to share their feelings and connect with peers who are coping with similar situations.
The Grief Intervention Support Team (GIST) is a specialized bereavement counseling service available at no cost when groups of people, including children and adults, are affected by a sudden traumatic event. This free service offers on-site and ongoing grief and trauma support services to schools, workplaces, and other community venues on an "as needed" basis.
Each year, the Center for Children helps hundreds of children through these programs, totaling well over a thousand therapy sessions. These services are only possible thanks to individual donors and local organizations.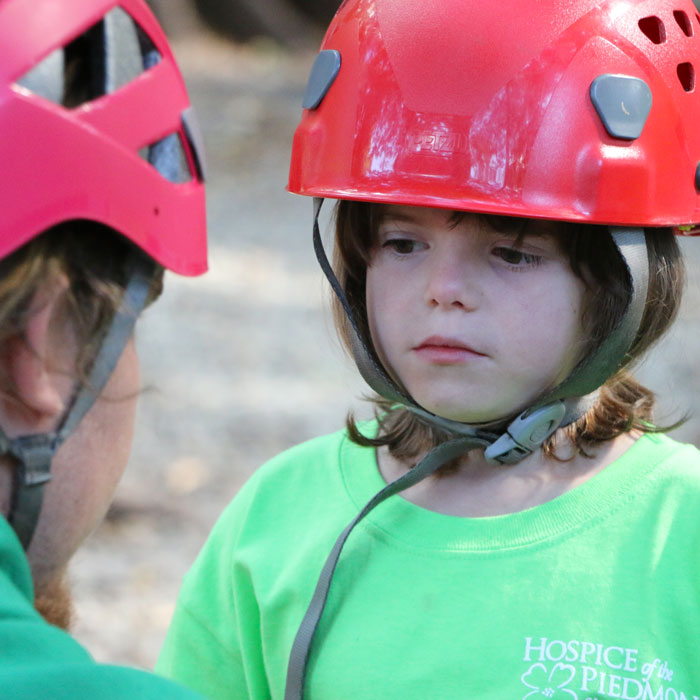 Hospice House
Our Hospice House is one of only two licensed, residential hospice facilities in the state of Virginia. Here we offer around-the-clock compassionate care to patients who no longer have a caregiver or whose loved ones are unable to provide care at home during the final days of their journey.
This historic Victorian home has long been known as a "community gem" and was renovated prior to opening its doors to patients in November 2004, thanks to the support of private philanthropy. Hospice House has since offered a comfortable and caring environment for over 1,300 patients and their families. With a licensed nurse and certified nursing assistant on duty at all times, loved ones are always welcome to visit and experience the incredible value of this home away from home.
Gifts to Hospice House help employ skilled, compassionate staff members who provide around-the-clock care to patients and support families during these difficult times. Please help us to ensure that when our community members' needs are too great to be met in their own homes, our doors are always open.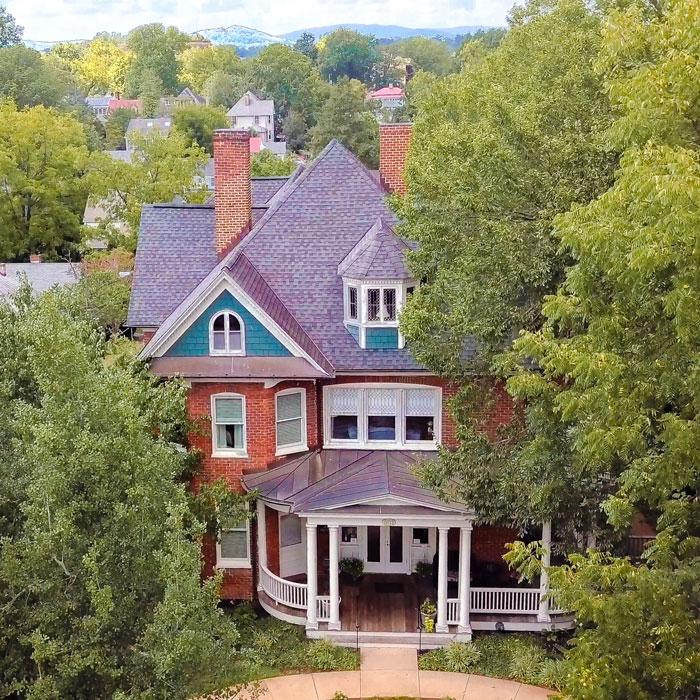 Music By the Bedside
Research has shown that music reduces anxiety, elevates mood, and encourages emotional release. It can also provide a healing atmosphere and promote cognitive engagement and relaxation for patients, while bringing comfort to caregivers. With this in mind, we established our Music by the Bedside program in 2017 to provide physical, emotional, and spiritual support for hospice patients and their families.
Our musicians travel to homes or facilities to perform live, personalized music based on patients' unique needs and preferences at any given time. They are Certified Music Practitioners and graduates of nationally accredited programs with the ability to play a range of instruments including harp, classical guitar, and/or voice. Sessions typically last 30-60 minutes and are offered free of charge thanks to private philanthropy.
Therapeutic music is a spiritual practice. It touches our hearts. To witness suffering and be a compassionate and loving presence is half the equation. To offer appropriate music and let the music do its sacred work is the other part. The combination of loving intention and music helps to lessen the physical and emotional pain of dying."
— Kate Tamarkin, Music by the Bedside Program Coordinator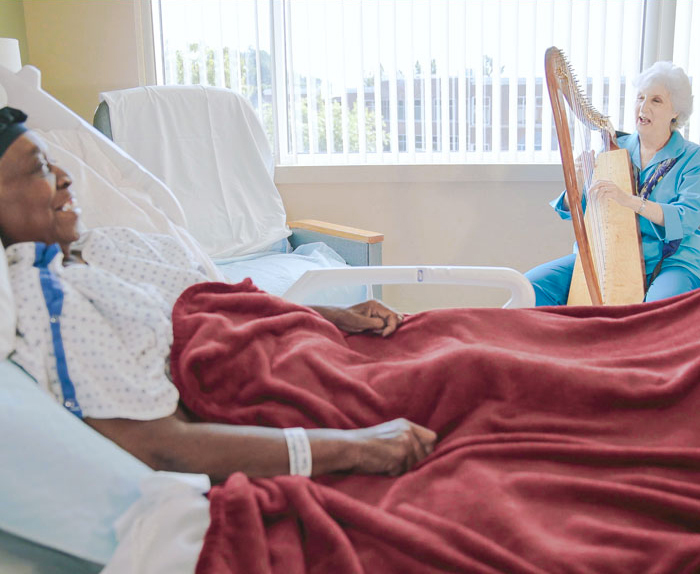 We Honor Veterans
Hospice of the Piedmont is proud to participate in the We Honor Veterans program at the highest publicly offered national certification level. Through this program, we've served over 1,200 area veterans since 2011. Our staff and volunteers are specially trained to address the challenges facing military men and women, and we're committed to serving those who have served our country.
We Honor Veterans supports veterans and their caregivers through community education, workshops, support, and individual grief counseling and therapy sessions. The program also hosts Pinning Ceremonies – by veterans, for veterans – to recognize individuals for their service alongside family, friends, and staff.
As a military retiree, it gives me tremendous honor to express my gratitude to the fine men and women who stepped up to answer our nation's calling. Hospice of the Piedmont's We Honor Veterans program provides a wonderful opportunity to recognize and thank our local veterans for their service and sacrifice. These great patriots need to know their contributions are appreciated and will always be remembered by those of us who are forever grateful."
— Chris Karls (Colonel, Ret., USAF), We Honor Veterans program volunteer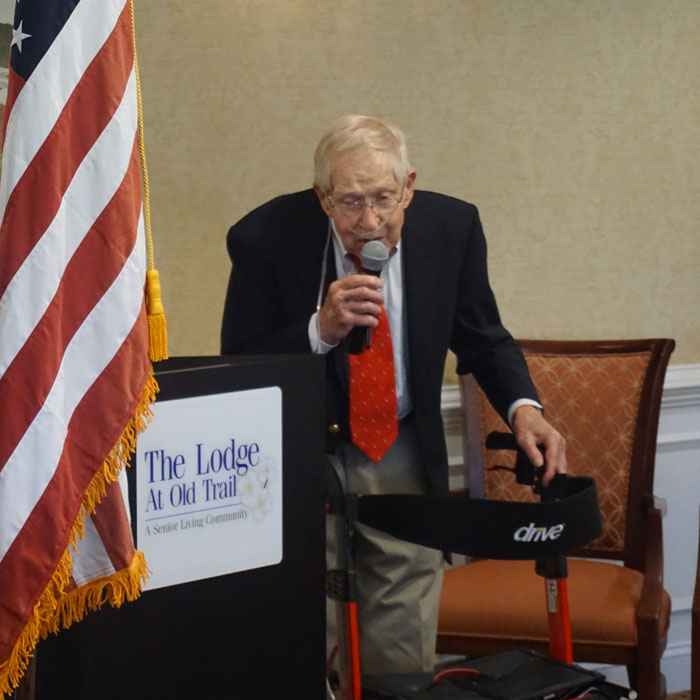 We are proud to host several events for the community every year. Events like the Memorial Illumination, Hospice of the Piedmont's Run & Remember 5K, and our SWING Golf Tournament support our mission and key priorities.
To learn more about specific events and the Dining Around the Area book, please click below:
Stay tuned for more information about the 2021 Run & Remember 5K! If you have questions about the event, please email 5k@hopva.org.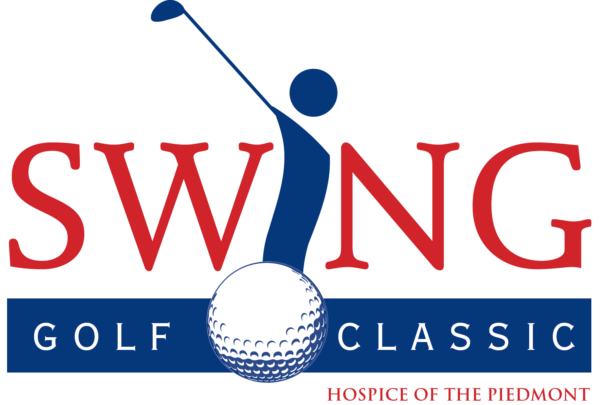 Stay tuned for more information about the 2021 SWING Golf Classic! If you have questions about the event, please email shannon.gearing@hopva.org.
Traditionally, Hospice of the Piedmont hosts an in-person Memorial Illumination event in both the Charlottesville and Culpeper communities in early December. This year, we will be hosting a Virtual Memorial Illumination. Stay tuned for the 29th Memorial Illumination celebration, available online, beginning December 10. We welcome you, your family, and friends to join this special presentation virtually, by clicking here, anytime between December 10-31. If you have questions about the event, please email shannon.gearing@hopva.org.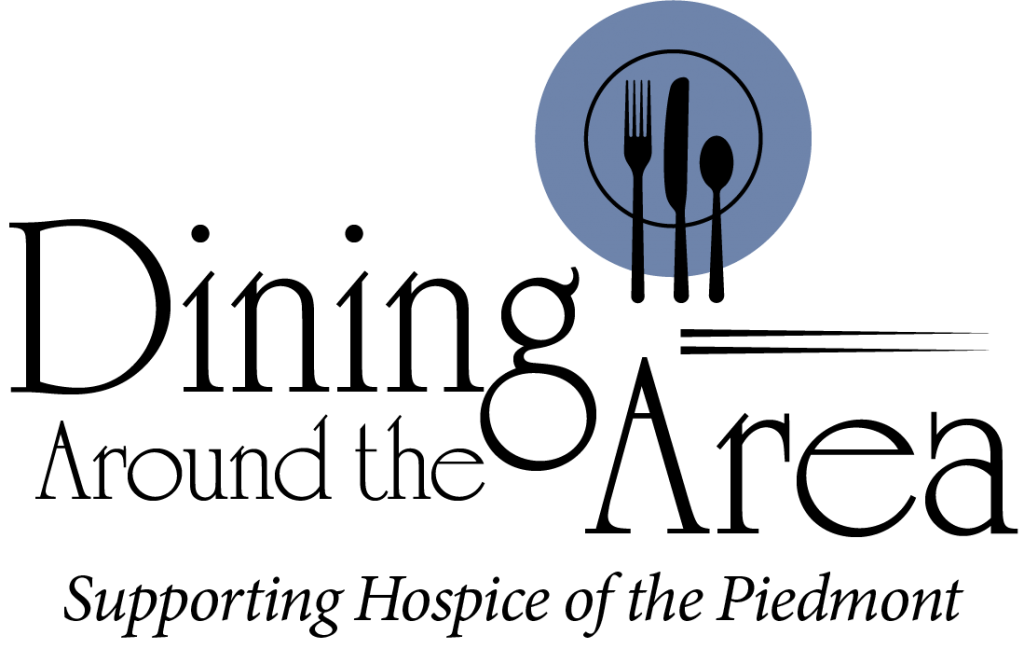 While we typically begin offering our annual coupon book in fall, we have decided to allow the Dining Around the Area book to "hibernate" this year. Out of an abundance of caution for patrons and supporters, and with respect to our local economy, including restaurants who have supported Hospice of the Piedmont for the last 30 years by offering coupons in our Dining Around the Area book, we plan to publish this fun coupon book again in 2021.
We encourage you to continue to support local restaurants who have given so much to our community by supporting Hospice of the Piedmont for the last three decades. Please click here for a list of restaurants, wineries, and breweries available for pick-up and limited in-person service.
Frequently Asked Questions
There are many ways you can support Hospice of the Piedmont in providing quality end-of-life care and free grief and bereavement support to our community. Gifts of all sizes make a difference and are tax-deductible, as allowed by law. Please make your gift or pledge today.