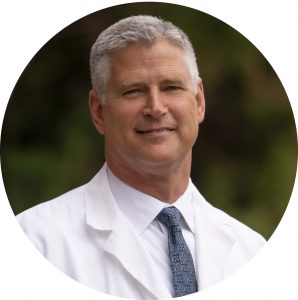 Dr. J. Cameron Muir is serving as Hospice of the Piedmont's Interim Chief Medical Director. Dr. Muir serves as the Chief Innovation Officer at Capital Caring Health and Chief of Clinical Innovations for the National Partnership for Hospice Innovation (NPHI). At Capital Caring Health, one of the oldest and largest non-profit hospice and palliative care groups in the United States, Dr. Muir led the medical staff from 2002 to 2018; the medical staff provided over 260,000 hospice and palliative care visits during that time frame. Additionally, his work on research and outcomes programs has resulted in the publication of over a dozen peer-reviewed articles which define innovations and best practices in advanced illness care.
In multiple leadership roles, Dr. Muir is both a Fellow and the Past-President of the American Academy of Hospice and Palliative Medicine (AAHPM) and served on the AAHPM Board of Directors from 2002-2009. In addition, he has been a consultant to the National Comprehensive Cancer Network (NCCN) and for two decades has served on the faculty of the Education for Physicians in End of Life Care Project (EPEC). Prior to joining Capital Caring Health, Dr. Muir was Medical Director of the Palliative Care and Home Hospice Program of Northwestern Memorial Hospital, where he also served on the Pain Management Coordinating Council. He was also Director of the Palliative Care Program of the Northwestern University Medical School, where he was Assistant Professor of Medicine in the Division of Hematology and Oncology of the Robert H. Lurie Comprehensive Cancer Center.
Dr. Muir is Board Certified in Hospice and Palliative Medicine and Internal Medicine and is a Certified Hospice Medical Director. He received his medical degree from the University of Virginia School of Medicine and completed his residency in internal medicine at Dartmouth-Hitchcock Medical Center. He also earned fellowships in bioethics at the University of Chicago Medical Center and in both Medical Oncology and Hospice and Palliative Medicine at Northwestern University's Feinberg School of Medicine.